So I purchased this bike about a year ago just as a daily with the intention of doing a quick cookie cutter bobber build. Nothing crazy just a hard tail, solo seat and some friscos. About 3 months ago I met Eric from Casa Customs at a swap meet and was going to have him build me an exhaust. I was fairly new to California, hadn't found a shop I liked yet and didn't have the serup to do the work myself. I swung by the shop one day and we talked bikes for a while. Seeing that I knew my way around the shop he asked for some input on a build he was currently working on. Long story short I put in a little work and 4 months later I'm a full time employee. 
The cookie cutter bobber I had intended to do went an entirely different direction. 
Short list of what's done 
1 into 2 exhaust 
Headlight Fairing with integrated tachometer 
Chin Spoiler 
Cafe style Speed seat 
Hardtail 
Rear wheel moon disc caps
Clip ons
Firestone champion deluxe front and rear 
17/45 sprockets 
Tsubaki chain
Paint and graphics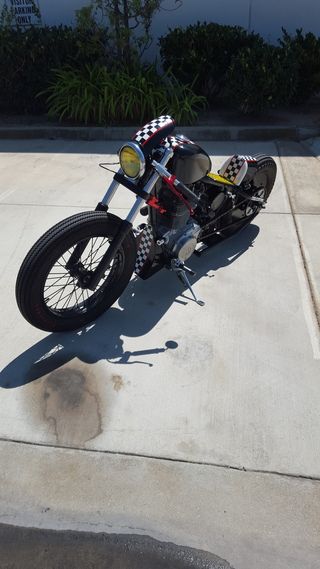 I don't consider myself a bike builder, just an extreme modifier of an existing product!